We carry a full line of Dungeons & Dragons books and supplies (dice, dice bags, miniatures and painting supplies, hex/grid maps, etc.). We also carry dozens of other RPGs as well.
Our D&D player community is very active, with regular campaigns played in our game room every Wednesday, Friday, and Saturday…and sometimes other days too!
Are you new to D&D or tabletop RPGs? Not sure how to start playing? We are always happy to answer your questions and help you get started.
---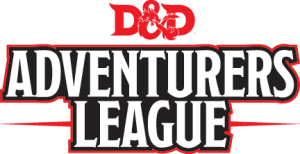 We host Dungeons & Dragons (D&D) Adventurers League (formerly known as D&D Encounters) every Wednesday from 7:00-9:00 pm, and Fridays from 6:00-9:00 pm. D&D Adventurers League is an exciting, weekly campaign that plays out one epic encounter at a time. Each session only takes about two hours to play, so it's easy to fit a game into your schedule. D&D Adventurers League is perfect for new players who want to find out what D&D is all about, but it's lots of fun for veteran players too!
Click here for more info on D&D Adventurers League.
Newbies are welcomed! This is a great way to learn how to play D&D.