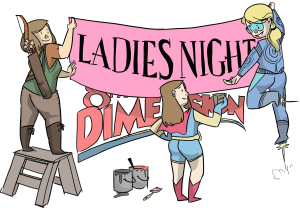 It's Ladies' Night at 8th Dimension! This party happens on a quarterly basis, and it's always a good time.
Ladies' Night is a chance to have fun and meet others who share similar interests and get your references. It's a casual hangout where you can participate in fun activities, games, snacks, and more.
---
Q&A
Q. I don't really consider myself geeky. Can I still come check it out?
A. Absolutely! Even if you've never read comics or played games that weren't Monopoly, we still aim to show you a good time. Everyone is nice and newbies are very welcome.

Q. Can I wear a costume?
A. Yes, if you want to! In fact, you can wear a costume literally anytime you visit 8th Dimension.
Q. Can I bring a snack to share?
A. Yes, if you want to! (Please be ready to tell folks what's in it since some people have dietary restrictions/allergies.)
Q. Is there an age restriction for this event? Can I bring my child with me?
A. This is an all-ages event. It's not specifically geared toward children, but we have a few (supervised) kids here most times and it's fine.
Q. Q. Is this event women-only?
A. No, all genders are welcome. The name is a bit of a holdover from the event's inception in 2013 (and we are looking at updating the name for the '20s), but Ladies' Night is about promoting inclusion, not exclusion.
---
We hope you'll join us for a fun night at 8th Dimension! If you have any questions (or want to volunteer to help out!), please call us at 281-856-6506 or email annie.bulloch@8thdimensioncomics.com.
---
Ladies' Night at 8th Dimension logo by Steenz (steenzartblog.tumblr.com)