Who We Are
8th Dimension's owners are longtime comics and gaming fans. Since we opened in 2011, our goal has been to create the comics and gaming store of our dreams – a fun, welcoming environment for everyone from lifelong fans to anyone who's just curious about all this cool stuff and wants to learn more.
Our new location is opening at 15558 FM 529, Houston, TX 77095 on November 2, 2021. Click here to sign up to receive updates!
What We Do
We carry a diverse selection of comics and games, including an all-ages section with plenty of books for younger readers. Our dedicated game room is available for customers to use, and we host frequent special events and organized play for a variety of games including D&D Adventurers League, Magic: The Gathering, Pathfinder Society, and more. Browse our Event Calendar for the latest news.
If you have any questions, please call us or email info@8thdimensioncomics.com.
Some of the products and services we offer: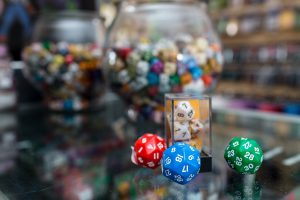 New weekly comic book issues – new every Wednesday! – and a free comic subscription service
A huge selection of trade paperbacks and graphic novels
An extensive collection of vintage comic book back-issues
Tabletop games, including board and card games and RPGs
Gaming accessories including dice, miniatures, play mats, hex maps, etc.
Posters
Comic and card preservation and storage supplies (bags, boards, boxes, card sleeves, etc.)
Superhero, sci-fi, fantasy, and movie/TV-related books and magazines
…And more!
No matter what your pop culture interests are, we probably have something that you think is cool.
We were all newbies once, and we want to help you find a book or a game that you'll love. Check us out and see if we're the shop you've been dreaming of too.
FAQ
Here at 8th Dimension, we are always happy to answer any questions our customers may have for us. For your convenience, here are answers to our most frequently asked questions!
Q: What are your business hours?
A. 11am-7pm Tuesday-Sunday, closed Mondays.
Q: Do you buy comics or toys?
A: Until our new physical location opens, we are not purchasing collections of comics, toys, etc.
Q: Do you buy or sell single cards for Pokemon, Magic, etc.?
A: We do not buy cards, and we do not sell single cards – only booster packs, etc.