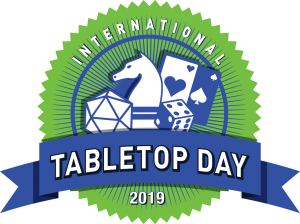 We are thrilled to host our 8th Annual International TableTop Day at 8th Dimension! June 1 is also 8th Dimension's 8th anniversary, so we'll be celebrating that too.
Join us for a whole day of tabletop games. We have demo copies of many games available to try, or you can bring your own to share! Most tables will have free play all day, meaning groups can choose a game to play.
We have some scheduled demos as well — a demo means someone will be running it specifically, so it's a good time to learn a new game! Find a game you like? You can save 10% on game purchases all day.
From 8:00-10:00 pm, it's 8th Dimension After Dark, an ages 18+ event where we get out the NSFW games we can't play during our family friendly business hours.
TableTop Day Event Schedule
DEMO: Marvel Legendary Deck Builder
8th Dimension's 8th Anniversary Cake
DEMO: Betrayal at the House on the Hill
DEMO: Epic Spell Wars: Battle at Mount Skullzfire OR Rumble at Castle Tentakill
8th Dimension After Dark (Ages 18+ only!)